Contempt for Irish Citizens over Gitmo
Do you remember all those World War 2 stories and movies where the Germans ran prisoner-of-war camps, usually called something like Stalag, where plucky American and British servicemen were interned who had been captured in battle or after being shot down? The dashing lads were always trying to escape but usually failed and often got roughed up by way of punishment. You remember the bit where the Germans' own allies, the Italians and the Japanese, would roundly denounce the Nazis for keeping these men illegally locked up, their human rights violated, with no mention of a trial or defence lawyers? Especially the bit where the Germans eventually relented a bit, held a few military tribunals and then let out a number of the less vociferous inmates to return free to their countries. They would then of course re-enlist and return to fight the Germans once again.
They were such inspiring stories, were they not? What's that? You don't remember this kind of plotline?
Well how about the more recent version, involving the redoubtable 007, sorry 008.
Abdullah Ghulam Rasoul, now aka Mullah Abdullah Zakir, was an armed Taliban fighter who was captured during George Bush's 2001 invasion of Afghanistan following 9/11. Since he wore no uniform he was designated an unlawful combatant and in due course found himself in the prison camp at Guantanamo Bay as Detainee 008.
Over the following years, America's "allies" (eg France) and "friends" (eg Ireland) urged it to close down Gitmo as it came to be known, put the prisoners such as 008 on trial according to civilian rules of evidence, and in effect to free the vast majority of them because juries were likely to find very few of them guilty "beyond reasonable doubt". Of course Bushitlerburton generally turned a deaf ear, which suited his "allies" and "friends" quite well because all they really wanted was to garner headlines by criticising him as a war criminal, rather than let loose a whole lot of tribal wild men.
Nevertheless, the occasional prisoner, judged no longer a threat, did leak out. One of these was 008 after he promised to go back to his family and henceforth pursue a peaceful life. In 2007, he was released from six years detention in Gitmo and flown by to Kabul where for a while he was re-interned. But a year ago he was set free and, to no-one's great surprise, re-joined the Taliban as a fighter, no doubt laughing at the gullibility of his erstwhile captors. He rapidly rose to become its new operations chief in Helmand Province and the architect of a fresh offensive against British troops, exemplified by a spike in roadside bombings that have killed more than forty brave Tommies.
008 is just one of sixty Gitmo alumni to have resurfaced on the battlefield.
Meanwhile, the Cowboy is gone from the Oval Office replaced by the Big O. One O's first acts was to announce that Gitmo would close in a year (yeah, right!) and would his new-found friends in Europe and elsewhere kindly take the tribal wild men off his hands. Of course very few volunteered, though there's lots of talk of "considering" it and "studying the practicalities". For example, Jacques Barrot, vice-president of the European Commission declared last week that without "total transparency" of information about the inmates, the EU "can't assume that responsibility" of accepting them for resettlement.
Not to be put off by curmudgeonly tales about freed inmates returning to terrorism, the moment arrived for Ireland's Taoiseach (prime minister) Brian Cowen to step forward. Having first granted Big O an audience in Washington where he
he headed off to CNN for a big announcement.
Doubtless thinking it would curry favour with Big O, he chose a foreign land and the grizzled correspondent Wolf Blitzer as his medium for informing his fellow-parliamentarians back home, not to mention his fellow-countrymen, that Ireland would be delighted to accept Gitmo inmates for resettlement.
Here is his unequivocal commitment:
"We were one of the first countries to ask for the closure of Guantanamo. As you know, the EU has asked that we try to come together and put a full package to the Americans showing the countries in the EU that will take these prisoners. I think it's incumbent for those who called for its closure to ensure that certain prisoners be relocated elsewhere ... We'll take proportionate amounts." [my emphasis]
After all, since the Northern Ireland peace process broke out more than a decade ago, the island of Ireland has suffered from a distinct dearth of terrorist outrages (ever since the Omagh bombing, in fact) and this evidently needs to be rectified, notwithstanding the efforts of IRA dissidents to do exactly that by murdering in cold blood two soldiers and a policeman earlier this month.
As far as I have been able to ascertain, neither the Cabinet nor the Dáil (parliament) have publicly decided that Gitmo detainees will be accepted by Ireland - or indeed even been so informed. It is therefore a massive breach of protocol that Mr Cowen should choose a foreign correspondent, foreign media, foreign shores and a foreign audience to announce such a momentous domestic fait accompli, and without any public debate whatsoever. Indeed, it constitutes nothing less than a massive contempt for his fellow citizens and parliamentarians of Ireland. All you can really say is that, born in County Offaly, he was living up to his nickname, Biffo (Big Ignorant F***er From Offaly).
And no, those Nazis I alluded to in my opening paragraphs, did not free their prisoners to go back to battle. I think the world is "irony".
The German military kept their POWs locked up until the war was over, as all warring parties did and have done through history (if they didn't kill them). The Americans should do likewise, until the war against Islamic jihad is over and the jihadist movement has been crushed, destroyed and humiliated.
Biffo has no business volunteering that the Irish public should provide a safe haven within its vulnerable midst for Gitmo prisoners freed by the Big O for the latter's own political reasons. And if the president does not want these people wandering untethered up and down the malls of America, he should not be trying to inflict them on anyone else's malls. The Jihad is not over yet by a long shot, and won't be for many, many more years.
Violent Video Games Replace Children's Fighting Games
From time to time, a comfortably-off young man from a good home commits an outrage on society. Typically he picks up a gun, goes to a school, shoots as many innocent people as he can and then turns the gun on himself. In recent years, some of the more publicised events have included -
| | |
| --- | --- |
| | In 1996, Thomas Watt Hamilton murdered sixteen children in Dunblane Primary School in Scotland. |
| | In April 2002, Robert Steinhäuser, a 19-year-old killed eighteen people in Germany at the school from which he had been expelled. |
| | In 2007, a Korean Cho Seung-Hui shot dead 32 fellow students and teachers at Virginia Tech, USA. |
| | In 2008, 22-year-old Matti Juhani Saari used a semi-automatic pistol to slaughter ten people in Seinäjoki University in Finland. |
Clearly the phenomenon is not confined to any one country (though mainly to rich Western democracies) and is no respecter of whether or not anti-gun laws are in place.
As you would expect, these dreadful occurrences always prompt a frenzy of soul-searching to find and understand underlying reasons. Sometimes people conclude that the perpetrators were mentally unbalanced, or suffering from a recent rejection (girl, school, parent, whatever), or just plain wicked.
But violent video games nearly always come up as a contributory factor. Young men (and some older ones) play these games, usually taking the part of a tough guy, often a criminal from the underworld, with one or more big guns who seeks out victims, buildings, bridges, trains as his targets to be blown away, with lots of blood, while not suffering the same fate himself. Grand Theft Auto is one of the more notorious examples of the genre.
People conclude that the visual reality of these games inspires testosterone-fuelled young men to emulate in real life the heroics they perform on screen, and the only outlet for this is to grab a gun and start shooting. Instinctually, these arguments seem to make sense, but I believe they lack a critical element.
It is a very modern phenomenon, and one unique to humans, that has a solitary young male acting out war-like activities via a screen while sitting for hours on his backside.
What is not modern, what is carved indelibly into the DNA of practically every young male animal almost from the moment of his birth, is the urge to fight, or failing that to play-fight and generally to expend energy. Look at all those wild-life programmes: see how the young cubs, especially the males, wrestle with each other, and in a manner that gets increasing aggressive and purposeful as they grow, get stronger, mature. This is to prepare them for life ahead, when they will have to fight for females and to protect themselves or their territory.
Humans have the same urge and also from a very early age, and for not entirely dissimilar reasons. That's why small boys want to play with any knives, guns, sling-shots or other weapons they can get their hands on, and to fight or play-fight among themselves, simulating injury and death, victory and defeat. And why they love playing football and other high-energy contact sports.
Just go to any public park where, say, under tens may be found and watch how they spend their time trying to kill each other. Except they don't. Not any more. Their parents won't let them. Over the past couple of decades, society seems to have completely feminised the poor guys. They are told it is wrong to fight; they must settle their differences through discussion; they should take up more peaceful pursuits like soccer, or maybe embroidery. When was the last time you saw a young boy with a pistol strapped to his waist, or a mediaeval sword in one hand and a shield in the other, as he goes into battle with another boy similarly equipped? When did an Indian last scalp a paleface or a soldier shoot a German? It doesn't happen any more; for one thing the unfortunate boys can't any longer get their hands on the military equipment they need. Go round any toystore. Where are the shelves stacked high with knives, rifles, tomahawks, machine-guns, bows-and-arrows? At best you might find a small plastic tank with - oh horror - a tiny gun on the turret.
What do people buy boys for their birthdays or for Christmas when weapons of mass destruction are off the menu? Video games, likely as not.
Any sense of fighting is discouraged. It is many decades (eg my own childhood) since boys were taught to box as a matter of course and as a tool of self-defence, and told that if a couple of them had an argument to get in a ring and slug it out under the Marquis of Queensbury rules rather than let it fester.
(One of the ridiculous consequences is that when drunken brawls break out in the street in the early hours of the morning, the resultant injuries are as likely to be damaged hands and wrists as a broken jaw. Men swing haymakers and end up hurting themselves because they've never been taught how to punch properly.)
But trying to suppress a young male's urge to fight is like trying to squeeze a balloon. It just bulges out somewhere else. There is a ready outlet for those youngsters fortunate enough to engage in vigorous sports, such as football, rugby, tennis, water-polo, karate, skiing. But for others, it is those video games, unknown a generation ago, that provide the necessary outlet. The blood and guts and realism of a video game are much greater than anything boys could manage as they would routinely kill each other in the local park, but it is a solitary pursuit accompanied by no physical exertion which makes it all weirdly unnatural, and I would think innately unsatisfying.
So if video games do contribute in anyway to the random killing sprees, it is only because boys have had no natural outlet for their natural urges to fight among themselves in a healthy, vigorous but relatively harmless way. They spend testosteroned hours absorbed in virtual combat yet taking no exercise, mixing with no people, feeling no thuds on their bodies.
No wonder some of them occasionally go nuts.
Boys are not girls and should not be expected to behave and play like girls, any more than girls should be encouraged to engage in fighting games if they don't want to.
Smoking Has Benefits as Well as Costs
I have written before about the benefits and costs of smoking, both of which are twofold.
Benefits -

| | |
| --- | --- |
| | The pleasure that nicotine gives to smokers (pleasure is a legitimate aspiration that we all seek in some shape or form). |
| | The revenue that tobacco taxes yield to society and pensions foregone due to early death. |

Costs -

| | |
| --- | --- |
| | The suffering of smokers who contract smoking-related diseases and in many cases die long before their otherwise natural lifespan, plus the diversion of their wealth to fund their habit. |
| | The burden on society of supporting such people through their sickness, plus the possible loss of or detriment to their productivity. |
It is rare, however, that the benefit side of the equation, either for the individual or society is ever acknowledged. Indeed, you hardly ever hear of any addictive drugs providing positive outcomes for users, other than occasional articles about the therapeutic value of an odd glass of red wine.
I must confess, therefore, to having been surprised when two speakers, at a university debate on drugs that I participated in last year, spoke glowingly about the good that illegal drugs can do, whether in merely giving pleasure to the user, or in providing medical benefits by treating either pain (eg with marijuana) or else trauma and bereavement (eg through psychedelic drugs). Indeed, one of the speakers, Rick Doblin, later figured heavily in a long Economist feature at Christmas time entitled "Agony and Ecstasy" (geddit?).
When it comes to cigarettes, however, it is impossible to make any convincing case that smoking is of overall benefit to the user. The large percentage of people who suffer horrible illness and/or die prematurely can surely never offset the transient pleasure of having a drag, a delight no non-smokers and few ex-smokers yearn for. It's not like galloping on a horse or skydiving or riding the rapids or gross overeating or a hundred other dangerous pursuits, where even if you don't do them yourself you can easily understand and dream of the pleasure or adrenaline rush they undoubtedly bring.
But if the joy to the individual of smoking seems perverse, the same cannot be said of the undoubted gains from the filthy habit to society as a whole.
For, as I have argued previously, smokers not only pay for themselves in terms of their exorbitant tobacco taxes and premature non-pensionable deaths, but provide a healthy surplus which exclusively favours their non-smoking brethren. As such, you would have to conclude that smokers and, for similar reasons drinkers, are intrinsically altruistic, whether they mean to be or not.
Yet still the debate rattles on about how smokers are costing society a fortune. Earlier this month some newspaper correspondents complained that "in Ireland, 7,000 people a year die from smoking-related illnesses [costing] the Irish health budget €1.5 billion a year". Their solution was a "€2 increase [in a packet of cigarettes which would] raise up to €420 million". The foolishness of this argument is self-evident. The current price is nearly €8 a pack, of which at least 80% is tax. Thus cigarette taxes are already more than funding the necessary health care, and that is not to talk about billions saved in foregone pensions due to early smoke-induced deaths, which on average cut a decade from the life of every smoker.
In Ireland there are 224,850 male pensioners (ie over 65) and 278,661 females, and of these 16% of men and 14% of women smoke. Thus, 75,000 old-age pensioners will, by graciously dying ten years early, save the state 750,000 pension-years at €219 per week, or a cool €8½ billion, over a period. Each of them will have contributed €114,000.
On an annual basis, since 7,000 people die of smoking-related illnesses, the pension-savings works out at a juicy €0.8 billion, a bounty to be added to tobacco taxes collected, reinforcing the selfless social good that is smoking.
It is dishonest to try to hide this inconvenient truth.
None of this, however, takes away from the utter folly of smoking and the misery it so often causes to the individual. Their loved ones also suffer collateral damage and unhappiness. Why adults would choose to do such damage to themselves is an utter mystery.
But they know the consequences, and it's their right. And the rest of us benefit.
A disappointed salesman of a new Cola company returned from his Middle East assignment.
A friend asked, "Why weren't you successful with the Arabs?"
The salesman explained, "When I got posted in the Middle East , I was very confident that I would make a good sales pitch as our special Cola is virtually unknown there. But, I had a problem - I didn't know to speak Arabic. So, I planned to convey the message through three posters" ...
First poster:
A man lying in the hot desert sand ... totally exhausted and fainting.

Second poster:
The man is drinking our delicious new Cola.

Third poster:
Our man is now totally refreshed and bounding away happily.
"I then had these posters pasted all over the place."
"That was certainly very creative", said the friend. "It should have worked a treat!"
"The hell it should have!" said the salesman.
"I didn't realize that Arabs read from right to left."
[Hat tip: Barry O'N in Dublin]
- - - - - - P O P E - - - - - -
Quote: "This Pope is beginning to pose a real problem."
Alain Juppé, a Catholic and a former French Prime Minister
who left office a failure and was later convicted of abusing public funds,
dislikes the way Pope Benedict XVI points out that
condom promotion has failed to inhibit the spread of AIDS,
whereas the evidence shows that fidelity and abstinence have succeeded.
Condoms help prevent infection on an individual basis,
but since they make promiscuity seem
acceptable (even when not worn) and safe,
they seem to foster AIDS on a population basis.
- - - - - - - M U T I L A T I O N - - - - - -
Quote: "We will save many litres of water if more men were circumcised because there would be less fiddling in the shower to keep it clean."
Dr Paul Cowie, circumciser-in-chief
at his Adelaide and Gawler clinics in Australia.
As far as I can see, this way of saving the environment
through conserving water
is about the most robust reason anyone has ever advanced
for the non-medical butchery of circumcision.
Does it apply for women also,
or must they continue to enjoy FMG
without doing anything for global warming?
Such chopping of bits off babies should only be performed
if it means saving the polar bears.
- - - - - - O B A M A - - - - - -
Quote: "It's like - it was like the Special Olympics or something."
President Obama, on the Jay Leno TV late-night chat-show,
disparages his own ten-pin bowling skills by
insensitively comparing them to those of disabled athletes.
He later apologised, but only after
the White House was flooded with outraged calls.
- - - - - - I R E L A N D - - - - - -
Quote: "We begin by welcoming today a strong friend of the United States ... Who said these things [teleprompters] were idiot-proof?"
Irish Taoiseach (prime minister) Brian Cowen
welcomes himself to Washington,
after inadvertently reading the start of
Barack Obama's just-completed welcome speech.
The White House teleprompter
had failed to switch over to Mr Cowen's reply.
There doesn't seem much about Mr Obama's presidency

that doesn't go wrong
from the sublime (eg appointing tax-cheats)
to the ridiculous (mistranslating "Reset" into Russian).
Quote: "We were one of the first countries to ask for the closure of Guantanamo. As you know, the EU has asked that we try to come together and put a full package to the Americans showing the countries in the EU that will take these prisoners. I think it's incumbent for those who calls for its closure to ensure that certain prisoners be relocated elsewhere ... We'll take proportionate amounts."
Brian Cowen, Ireland's Taoiseach (prime minster),
tells American correspondent Wolf Blitzer on CNN that
Ireland will take Guantanamo inmates.
Too bad he hasn't bothered to tell, as far as I can ascertain,
his Cabinet colleagues or his fellow parliamentarians or the Irish public,
much less ask whether they agree.
Quote: "RTÉ would like to apologise for any personal offence caused to Mr Cowen or his family or for any disrespect shown to the office of the Taoiseach by our broadcast."
RTÉ, Ireland's national broadcaster,
funded mainly through an
enforced
tax on the citizenry
at the whim of the government of the day,
issues a grovelling apology.
It's crime? It had broadcast a newsworthy story
that a prankster had sneaked in
and hung these unflattering portraits of a nude Brian Cowen
in two of Dublin's
most prestigious art galleries.
View the original two-minute RTÉ report in full
[Hat tip: Mark Humphrys].
The police also stormed into the offices of a radio station
demanding details of the artist, Conor Casby, who painted them;
the radio station refused.
Nevertheless the artist gave himself up to the police
who questioned him under caution
and prepared a file for the Director of Public Prosecutions
State manipulation of RTÉ and police
to protect leaders from embarrassment
is reminiscent of those halcyon days of the Soviet Empire,
and indeed of the Castros' Cuba or Chavez' Venezuela today.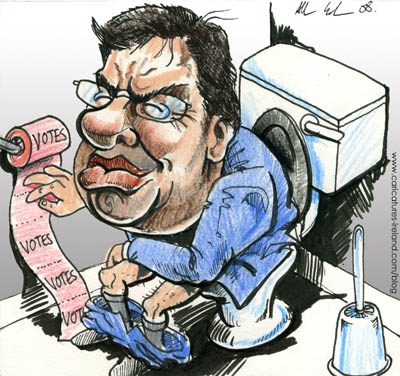 Strangely, however, it does not seem to extend
to cartoons where Mr Cowen
is regularly lampooned,
such as in this toilet-oriented drawing.
"Biffo" Cowen is earning his nickname
(Big Ignorant F***er From Offaly).